IWR North America recently completed work on the $380-million renovation of the Jefferson National Expansion Memorial Arch Visitor Center, located in St. Louis, Missouri. IWR started work on the project in March 2017 and completed their work this summer.
For the renovation, IWR installed several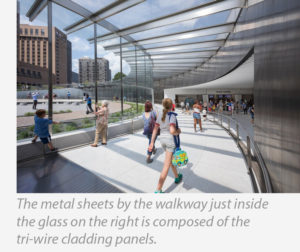 systems, which had tight tolerances and were all custom-fabricated products, including stainless steel tri-wire screen wall cladding, custom wire and cable security screen, monumental stairs from the entry level to the main level of the museum, radius lovers and radius green screens, stainless steel guardrails, stainless steel and glass handrails and stainless steel entrance grilles and grates. Following a diligent shop drawing process for each feature of the project to successfully install the systems to the concrete structure, IWR strategically prepared, measured and coordinated aligning the two. IWR installed radius and splayed fabricated products with long lead times for procurements and fabrication. The design concept of the project was an "inwardly facing cone" creating a constantly changing radius for many of the parts of the project, making fabrication and installation tolerances virtually non-existent to achieve the correct alignments between systems.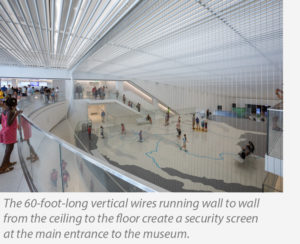 For this project, the construction manager had multiple superintendents onsite managing different scopes for each area of the renovation and addition. The coordination of multiple vendors was a challenge due to each custom-designed piece requiring completely different installation processes. IWR's general foreman and project manager continuously coordinated with the onsite project team to ensure the alignment with other trades regarding both finished product and installation sequence, which led to a successful project completion.
The project's general contractor was McCarthy Building Companies, Inc. and designed by the architect Cooper Robertson, James Carpenter Design Associates and Trivers Associates. With 45,000 square feet of new museum area, including exhibition galleries, public education facilities and visitor services, the expansion reinforces a more modern telling of American history with a more inclusive viewpoint.