Liberty Mutual Insurance recently completed a new regional hub in the Dallas-area to bring its employees in North Texas together. Employees from Frisco, Irving, Richardson, and along the Dallas North Tollway moved into the new nearly 1 million square feet space.
The design and budget were still underway with developer KDC and Project Architect Omniplan when Balfour Beatty Construction was awarded as the General Contractor. Assisting Balfour Beatty with design and budget development was building enclosure contractor IWR North America. The specialty contractor based out of St. Louis, Mo. was awarded two subcontracts for the enclosure: core and shell, and tenant improvements.
A 30,000 square-foot aluminum composite panel system with a fire-retardant core was designed, engineered, fabricated and installed by IWR. This part of the project involved complex geometry and the schedule did not allow for field measuring before fabrication, which is typical and desired with this type of system. ACM panel joint alignment was critical to the architect as well as the finished product in these high-end, high-traffic areas. The success of this component was not possible without efforts by the ACM fabricator Elward Systems, based out of Denver. The panel system is located at the community center, garage canopies, exterior walls, interior stairwells and main lobby soffits.
The parking garage was partially enclosed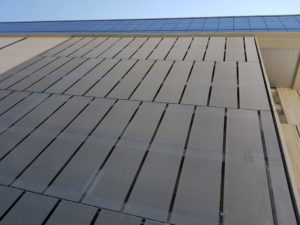 with 54,000 square feet of custom designed, engineered and fabricated stainless steel woven mesh utilizing a concealed tensioning attachment system (photo right). IWR in partnership with manufacturer WS Tyler fully-coordinated, designed and installed the substructure steel that attached the tensioned mesh system. The tolerance for the steel support to align with tensioned mesh was only a maximum of 1/16 inches, lining up over multiple floors. On the first floor of the parking garage, IWR installed 4,000 square feet of custom designed, framed-stainless steel mesh security screens and doors and 10,000 square feet of headlight screens. The headlight screens were custom designed, engineered and fabricated by IWR to mount to the vehicular cable barriers to block vehicle headlights inside the garage from adjacent properties while providing an architectural element to the enclosure façade.
Two penthouses on each tower roofs, the community center roof monitors, garage soffits as well and garage wall areas included 19,000 square feet of a concealed fastener metal panel system in a custom color (photo right). More than 9,000 square feet of rainscreen louvers, fabricated by Construction Specialties, and a louver screen were installed by IWR.
To ensure all changes were captured and executed, IWR's project staff took part in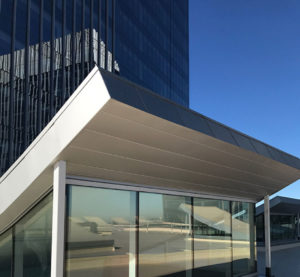 ​multiple visual mock-ups, more than 100 document revisions and clarifications, and more than 1,600 requests for information were issued on the project. Throughout the seven-month, fast-tracked project schedule, IWR managed more than 50 field workers during the peak installation time.
The new campus includes a parking garage with 4,500 spaces, an on-site medical center that offers a physical therapy services area, two conference centers, a full-service cafeteria, a gourmet coffee bar and two rooftop gardens. The insurance company owns an adjacent four-acre lot in Legacy West that is earmarked for future expansion.