IWR North America, one of the longest-standing building enclosure contractors in the United States, has recently been awarded several projects, including the JLL Microsoft Technology Center, Minnesota Vikings' STEM Building, GC America's corporate headquarters, and Washington University's campus enhancements.
"It is an exciting time at IWR, and we're happy to announce some major projects we are starting in the next year," said Mike Smalley, pre-construction manager of IWR North America.
IWR's scope of work on Jones Lang Lasalle's Microsoft Technology Center in St. Louis is nearing completion and on schedule to meet turn-over deadlines. As part of a complete interior fit-out, IWR's scope includes fabricating and installing interior glass and glazing, including glass doors, storefront, partitions, and glazed openings.

In June 2019, IWR is set to complete their work on the Minnesota Vikings' STEM/Tech Incubator Building (above), which includes installing insulated metal wall panels and insulated composite backup panel systems. This project will mark IWR's third major project awarded and executed as part of the Vikings' phased development project in Eagan, Minn.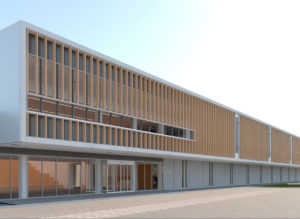 For the GC America Headquarters, located in the Chicago suburb of Alsip, IWR has been awarded a Design-Assist Contract for the total exterior enclosure, which includes custom-fabricated curtainwall, window wall, custom-designed and unitized sunshades and fins, insulated metal wall-panels, aluminum composite wall panels, aluminum storefronts and doors, and glass handrails. IWR's scope is expected to be completed by Q2 2019. This marks the first awarded project for IWR's newly opened Chicago office.
Washington University's Danforth Campus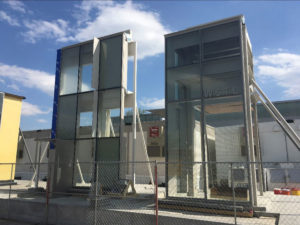 will undergo East End Enhancements with the help of IWR. With IWR's scope scheduled for completion in Q3 2019, IWR was selected as a Design-Assist partner working on design and budget development for multiple building enclosures including the parking garage, Jubel Hall, HUB Pavilion, Welcome Center Pavilion, Weil Hall, and Kemper Hall. On the various exteriors, IWR will install curtain wall systems, skylights, glass soffits, sloped glazing systems, custom metal plate wall panel and more. IWR has also been awarded the Interior Glass scope of work on Jubel Hall.